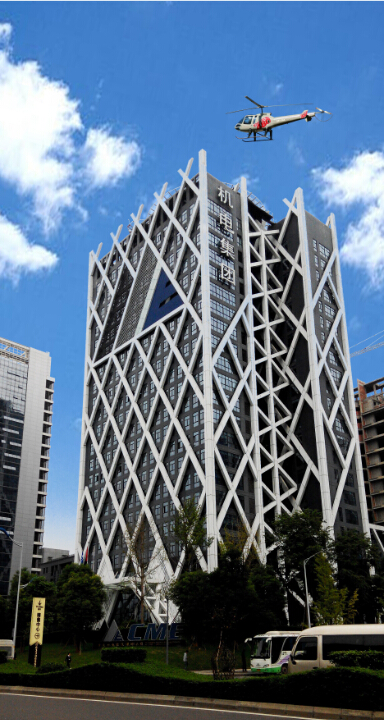 Chongqing Machinery & Electronics Holding (Group) Co. Ltd. (CME) is a state-owned holding group corporation organized by Chongqing Municipal Government after the revocation of the previous Mechanical Industry Management Bureau, the Electronics Industry Management Bureau and the Metallurgical Industry Management Bureau in August, 2008. Chongqing Heavy Vehicle Group Co. Ltd. merged into CME in 2004. CME now directly manages 36 enterprises, 131 subsidiaries, holding a H-share listed company and sharing an A-share listed company.
CME's business ranges over fields of high-end equipment manufacturing, electronic information, transportation equipment, basic manufacturing & materials, and equipment manufacturing service industry, etc. CME has developed various series of products with excellent quality enjoying high reputation both at home and abroad, including Cummins high-powered engines, ABB large high-voltage transformers, refrigeration equipment, hydro-electric power generating equipment, nuclear power station equipment, CNC machine tools, heavy commercial vehicles, automotive transmission, high-grade precision and advanced national defensive electronic equipment, communication equipment, natural gas station & sewage treatment equipment complex, nonferrous metals smelting, and wires & cables, etc.
Chongqing Machinery & Electrics Co. Ltd. (CQME) under CME listed in Hong Kong in 2008. In 2010, CME acquired 6 companies under PTG UK to build an overseas platform of innovation, marketing and investment. Since then, PTG has won the "Inward Investment Awards" of UKTI twice. In 2012, CME acquired the Enstrom Helicopter Corporation and launched a series of strategic development plan of emerging industries in Chongqing, including the general aviation manufacturing industry, general aviation business, and general aviation service, etc. In 2013, the total assets of CME has reached RMB 39 billion Yuan, business revenue RMB 46 billion Yuan, profit RMB 1.6 billion Yuan.
CME has been ranking among the Top 500 Chinese Enterprises and Top 500 Chinese Manufacturing Enterprises for years, and has been awarded the prizes like "Outstanding Enterprise of Integrity in China" and "Honored Equipment Enterprise in China", etc.
CME is actively implementing the new "321" strategy (3 key areas: to pursue excellence in the existing industries, to develop new industries, and to keep on innovating; 2 targets: to achieve revenue of 60bn RMB by 2017 and 100bn RMB by 2020; 1 vision: to realize Equipping China & Going Global).